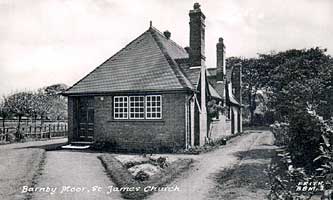 Barnby Moor
St James
Newark Archdeaconry
Bassetlaw and Bawtry Deanery
Introduction
The small village of Barnby Moor was historically in the extensive parish of Blyth and was three miles distant from the parish church. By the late 19th century the village had a population of around 240 and the urgent need for a place of worship here was acknowledged.
Local landowner, Henry Beevor, J.P., donated a plot of land for the building and a sum of £500 was raised by subscription. It opened on 27 February 1889 and was originally referred to as a 'mission room ... called "St James" church house.'
It was built of red brick with Staffordshire tiles and consisted of a chancel, school or meeting-house and a reading room. Services were conducted by clergy from Blyth parish church.
The altar rails and a brass plaque formed a memorial to the fallen of the First World War and were unveiled on 13 June 1920.
The church closed in the 1970s and has been since converted into a house.
Particular thanks to Andy Nicholson for research on this entry