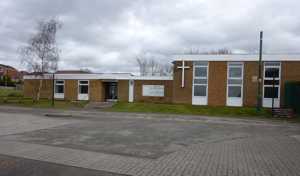 Bestwood Rise Park
Church (LEP)
Nottingham Archdeaconry
Nottingham North Deanery
Introduction
This single storey brick building was erected in 1968. It has a flat roof with white soffit boards and rectangular windows. There are steps up to the entrance and a large white cross on the wall next to it. The building comprises an entrance lobby, hall for services, meeting room, vestry, activity room upstairs, storage rooms, kitchen and toilets.
Work began on a hall as an extension in 1977 for all activities including those of a community centre.
The area was declared to be one of ecumenical experiment in 1971 leading to a partnership of Anglicans, Methodists and others.
Particular thanks to Rowan Gillam-Hull for research on this entry