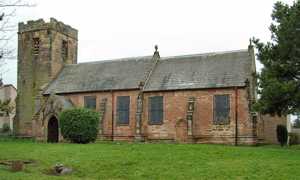 Bilborough
St Martin of Tours
Nottingham Archdeaconry
Nottingham North Deanery
Introduction
The medieval church of St Martin of Tours, Bilborough, was one of the smallest in the diocese until extended in 1972. The church stands in the area of the old Bilborough village; the forge, farm and two cottages still remain, but it now serves the large outer city estates of Bilborough and Strelley.
The nave and chancel were built in the second half of the 14th century with the tower added in about 1450. There is a handsome south porch also of the 14th century. Restoration was carried out in 1887-8 by J E Newbury.
Inside, on the north wall of the chancel, is a fine wall monument to Sir Edmund Helwys of Broxtowe who died in 1590.
In 2011 urgent repair work was carried out on the medieval church. Tower stonework, including the parapet was restored, condemned electrics replaced and drainage repaired. Damp, damaged plaster was removed and the church redecorated.
Work is ongoing in 2014 to reveal two 20th century wall paintings by Evelyn Gibbs and a Victorian Barrel Vault ceiling. Both have been hidden since the 1972 modernisation.