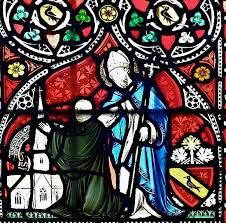 Bircotes
Christ Church
Bassetlaw and Bawtry Archdeaconry
Newark Deanery
Introduction
With the rapid expansion of mining in the area church building expanded. Bircotes Christ Church was built on Whitehouse Road and dedicated in 1924. The Barber Walker Company funded the church and also built a church hall and vicarage.
The church records end in the 1950s with the exception of inspection reports dated 1976 and 1983. The church was later demolished.
No picture of this church is known. The image on this page is a section of a stained-glass window (actually in Ramsgate Church) depicting the Victorian architect Augustus Pugin.