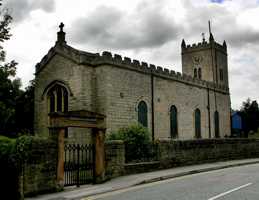 Blidworth
St Mary of the Purification
Newark Archdeaconry
Mansfield Deanery
Introduction
Originally a Norman building but only the west tower remains of the medieval church (15th century, and much restored).
The building is built of stone, consisting of chancel, nave, south aisle, south porch and an embattled tower with pinnacles, containing a clock and 3 bells. The body of the church was re-built in classical style in 1739-40 with round-headed windows and an unusual south arcade on Tuscan columns. The east end of the chancel was renewed in 1839 by Colvin.
There is a 15th century font with good Perpendicular tracery. The wooden pulpit of c1820 came from Southwell Minster in 1900. It is decorated with plaster heads, crockets and the Arms of George III. The chancel panelling is from the same source. On the reverse of a hymn board is a painting of King David by Shepperd (1779). On the north side of the church is a window in memory of General William Need.
The churchyard contains remains of the old chancel, walling, parts of windows, doors and cross-slabs; and a model of the church from 1963. There is a monument to Thomas Leake, dated 1608, who was a Sherwood Forest ranger, with his hunting gear, sword and trophies. Tradition has it that Will Scarlet was buried in the churchyard.
An 18th century cradle is used for the celebrated 'Blidworth Rocking'. On the nearest Sunday to 2nd February, the Festival day, a baby boy who was born nearest to Christmas Day is rocked in this cradle.