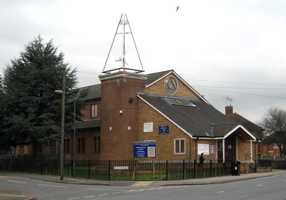 Broxtowe
St Martha the Housewife
Nottingham Archdeaconry
Nottingham North Deanery
Introduction
The foundation stone was laid in February 1952 for this two-storey brick building, although only part was built then. For fifteen years two bays of the hall were used as a church.
The architects were Broadhead & Royle, later Royle & Whitehorn. They decided the church should remain on the ground floor in 1967, when a spacious sanctuary and bell tower were added. There were further extensions in 1997 to create a community hall, training facilities, child care provision, canteen and disabled access. Four metal poles form an open spire. There are also steps up to the entrance into the reception where an open-tread staircase leads upstairs, followed by the café and kitchen, folding screen, hall, sanctuary, vestry, 'drop-in' area, toilets and lift.
In the reception area on the wall is a sculpture of Christ by Peter Eugene Ball. A slate plaque in the café area commemorates the visit of the Archbishop of Canterbury on 22 July 1995.
The Lady Chapel in the north east corner is lit by a circular stained glass window in abstract design and garish colours. All other windows are plain, including four two-light narrow ones with round tops on each side of the hall/nave. The plain stone font is hexagonal.
One bell, formerly at St Christopher's, Sneinton (by Taylor, 1910), is now fixed to the wall above the rear entrance.
In 1997 St. Martha's became the first turbine-powered church in Britain. Unfortunately the turbine on the tower never worked properly.
Particular thanks to Matthew Phillips for research on this entry
and to Judith Asquith for photographs.