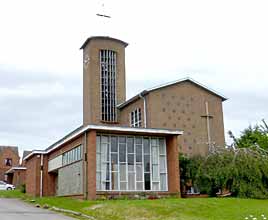 Carlton
St John the Baptist
Nottingham Archdeaconry
Gedling Deanery
Introduction
This church, designed by the architects Broadhead & Royle, was erected on a sloping site on Oakdale Road in 1958. Reddish brown and sandy coloured handmade bricks were used.
The 50ft high brick tower contains eleven bells and on top is a 17ft cross, now of steel but originally copper. There is also a 12ft cross above the altar.
A spacious porch with glass doors leads into the nave, where it and the aisles are separated by slender painted steel columns. There is no chancel but the sanctuary is lofty and wide containing the high altar, clergy stalls and Bishop's chair.
A side chapel at the east end of the wide aisle is used as a children's corner and baptistery. At mezzanine level is a secondary entrance to the Lady Chapel and vestries. The whole of the east wall of this part is made of glass. Otherwise the church is lit by tall windows of clear glass with clerestory windows over the main arcade. Over the choir at the west end is a full pipe organ. The organ screen bears fifteen panels decorated with the coats of arms of dioceses which made gifts. The pews are of Tasmanian oak padded and upholstered in leather cloth. In the transept is the font, a solid conical drum of cream stone with hardwood cover.
A life-size statue depicting Mother and Child at the Well was made by Josephina de Vasconcellos. Her husband, Delmar Banner, painted the well-known picture 'Christ calling His Disciples', also in the Children's Chapel.
Two blackbirds built a nest and reared a family here during construction so there are replicas of a male and female on separate nests.
The architects wrote, 'The style stems from the early Christian columned halls of the 4th century but cannot be honestly placed in any historical style other than mid-20th century.'
Particular thanks to Jo Perrett for research on this entry.