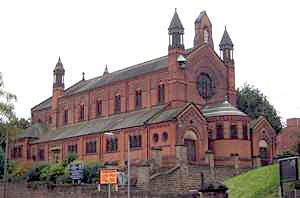 Carlton-in-the-Willows
St Paul
Nottingham Archdeaconry
Gedling Deanery
Introduction
Carlton was formed into a parish separate from Gedling in 1883.
The red-brick church (with yellow stone dressings) was built in two phases between 1885-91 in the style of a massive Romanesque basilica. It was designed by London architect W A Coombs.
The building consists of a chancel with apse forming the sanctuary, north and south porches and western turrets, in one of which hangs a bell. The porches lead into the aisles. There is a nave of six bays with a western apse forming a baptistery. There is much moulded terracotta decoration. The inscription for the choir seats was by Eric Gill in 1903.
After completion in 1891 the church was consecrated as a memorial to the 4th Earl of Carnarvon, who gave the site and £9,000 towards the cost.
Particular thanks to Tim Southall for research on this entry.