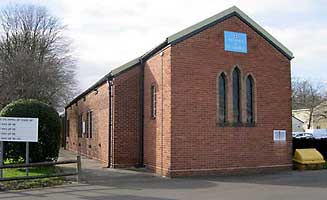 Chilwell
St George Army Chapel
Nottingham Archdeaconry
Nottingham South Deanery
Introduction
This small brick building was erected and consecrated in 1953.
The interior consists of a nave, with a step up to a chancel. At the rear of the building is a porch, vestry and a suite of rooms including a toilet and storeroom. Modern chandeliers hang from the ceiling to provide light.
The church is used regularly for services, usually on a Thursday. It is also used for baptisms.
It serves all denominations except Roman Catholic, but the weekly service is usually Anglican. The church is served by both military and civilian chaplains.
Particular thanks to John Beckett for research on this entry