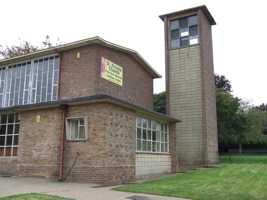 Clifton
St Francis
Nottingham Archdeaconry
West Bingham Deanery
Introduction
This modern church was built on the new Clifton Estate, Nottingham, mainly by voluntary labour. It was consecrated on 17th May 1957. The foundation stone was laid by a blacksmith and a bricklayer.
The church consisted of nave, chancel, side chapel, tower, vestries, porch annexe (which could be a transept) and hall. It was built of brick with clear glass windows, all rectangular. The architect was Vernon Royle, who also designed the stone font.
On the front of the lectern/pulpit was a real sword made by the Wilkinson Sword Company. The altar was a wooden table made at Portland Training College. The Tapestry of Creation which lay round the altar was designed by Norah Gibson. The Bishop's chair was designed by Count Bernadotte of Sweden. In the ceiling was a mural by Pamela Lloyd representing the whole of Creation. There was a cross on the top of the tower.
In the side chapel were four paintings, possibly 17th century, relating to the Crucifixion.
Charis Life Church was using the hall in 2011.
The church was demolished on 12 July 2019 after falling into severe disrepair and having become dangerous. This account was compiled whilst the building was still standing, but with limited access for health and safety reasons.
Particular thanks to Terry Fry for research on this entry
and to Terry Fry, Geoff Buxton and Jonathan Pickett for the photographs.