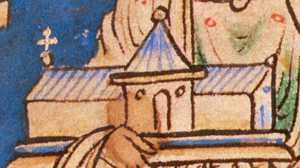 Clipston-on-the-Wolds
St John
Nottingham Archdeaconry
East Bingham Deanery
Introduction
There is no church or chapel in the village of Clipston, in south Nottinghamshire, today, but there have been two, both dedicated to St John, in the past. Little is known of the first chapel other than from documentary sources and it seems to have gone before the nineteenth century.
The second chapel was a tin tabernacle, constructed in 1898 and dismantled in the 1940s. It had only a small congregation and, for some years, a Sunday School. There is no evidence on the ground today of either chapel.
No picture of this church is known. The image on this page is a manuscript representation of a church taken from a depiction of Henry II held in the British Library, London.
Particular thanks to Timothy Southall for research on this entry