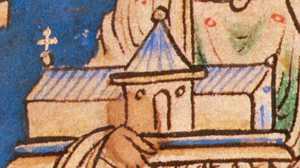 Cropwell Butler
St Nicholas
Nottingham Archdeaconry
East Bingham Deanery
Introduction
There was a Field Chapel of St Nicholas in the Middle Ages. It was at the south end of the village. Early records show it as the Chapelle of Crophille.
The churchyard was shown on the Enclosure Map of 1788 although there were no burials. It probably did not have a font so there were no baptisms either, making it a chapel-of-ease. It was probably built by Roger Pictavenis who later gave it and other churches to St Martin's Monastery at Sais in France.
It probably fell into disuse in the mid-16th century. Thoroton makes no mention of it. By 1832 no traces remained but some of the stones in old village walls may be from it.
No picture of this church is known. The image on this page is a manuscript representation of a church taken from a depiction of Henry II held in the British Library, London.
Particular thanks to Matthew Phillips for research on this entry.