Gringley on the Hill
St Peter and St Paul
Monuments and Memorials
There are five floor slabs towards the west end of the nave, but they are no longer legible. The exception is a floor stone to Elizabeth Booker who, according to the parish register, was buried on 31 May 1777:
Here lieth the Body of
Elizabeth the Wife of
William Booker of …
she died the 28th day of May
1777 aged 34 Years.
There are also records of the interments of previous incumbents in the chancel, including John Smyth (1434) and James Horbury (1657) but their locations are no longer known. More famously, the Revd Gustavus Hopton Scott's tomb lies under concrete, approximately below the sedilia on the south side of the chancel.
Three other vicars are commemorated more conventionally. There is a plaque to the Revd H N Beaver in the south aisle, and there are plaques to the Revds Henry Minta (erected in 1965) and Ivon Baker in the Lady Chapel.

IN MEMORY OF
HERBERT NAPLETON BEAVER M.A. VICAR OF THIS PARISH
FOR 16 YEARS WHO DIED JANUARY 20th 1853 AGED 52 YEARS
ALSO OF STELLA HIS WIFE WHO DIED JUNE 25th 1850 AGED 45 YEARS
THIS TABLET WAS PLACED HERE AD 1913 BY DIRECTION OF THE
WILL OF THEIR ONLY SURVIVING CHILD CATHERINE BEAVER
WHO DIED MAY 5th 1903 AGED 63 YEARS.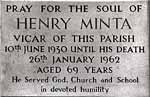 PRAY FOR THE SOUL OF
HENRY MINTA
VICAR OF THIS PARISH
10TH JUNE 1930 UNTIL HIS DEATH
26TH JANUARY 1962
AGED 69 YEARS
He Served God, Church and School
in devoted humility.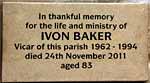 In thankful memory
for the life and ministry of
IVON BAKER
Vicar of this parish 1962 – 1994
died 24th November 2011
aged 83
There are several memorial tablets in the classical style, in the north aisle.

SACRED TO THE MEMORY OF ROBERT RAVEN
WHO DIED MAY 20

TH

1820. AGED 40 YEARS
ALSO SARAH ANN DAUGHTER AGED 2 YEARS
AND OF ANN THE WIFE OF THE ABOVE
ROBERT RAVEN WHO DIED JANUARY 17

TH

1823
AGED 38 YEARS
ALSO OF ROBERT RAVEN FATHER OF
THE ABOVE, WHO DIED FEBRUARY 7

TH

1830
AGED 81 YEARS.

ALSO OF DOROTHY THE WIFE OF
ROBERT RAVEN SENR WHO DIED JANUARY 15

TH

1834
AGED 80 YEARS.


Sacred
To the Memory of
WILLIAM CROSS,
who departed this Life July 9th 1826,
Aged 68 Years.

Also
MARGARET CROSS,
Wife of the above
who died August 12th 1805,
Aged 39 Years.
Below the above is the following very touching memorial:

SACRED
To the Memory of
Wm Edward Binney, Son
of Thos & Elizabeth Binney
of Morton,
who died May 16th 1811
in his Infancy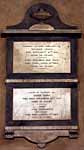 SACRED TO THE MEMORY OF
WILLIAM CROSS,
WHO DIED, OCTR 16TH 1832,
AGED 64 YEARS.
ALSO MILDRED, HIS WIFE,
WHO DIED, APRIL 16TH 1825,
AGED 45 YEARS.
ALSO IN MEMORY OF
JAMES CROSS,
WHO DIED NOVEMBER 28TH 1861
AGED 65 YEARS.
ALSO ANN ELIZABETH,
HIS WIDOW
WHO DIED AUGUST 8

TH

1883,
AGED 76 YEARS.
Lastly, there is an interesting memorial to William Gamson, a son of the James and Sarah Gamson who were remembered in the circular stained glass window which has since been removed. Its interest lies in the fact that the tablet has a large blank space below William Gamson's details – presumably for his widow. The fact that she is not commemorated here suggests that she must have remarried after William's death, or otherwise offended the family!