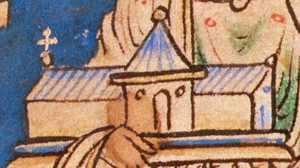 Kings Clipstone
King John's Palace Chapels
Newark Archdeaconry
Mansfield Deanery
Introduction
A reference to Clipestune (Clipstone) appears in the 1086 Domesday survey which records, prior to the Norman Conquest, two Saxons, Osbern and Ulfsig, meaning victory wolf, held possession of the Manor of Clipstone. By 1086 the Lord and tenant-in-chief was Roger de Bully, Busli. When Roger died in around 1098 his son became Lord of this Manor. This soon came into royal possession and the King's Houses (now known as King John's Palace) was established there in 1164 and remained until after the Richard II's last visit in 1393. A chapel was first noted as having been constructed at the Palace during the years 1176-80, in advance of a visit by Henry II in 1181.
Seven Plantagenet Kings of England visited between 1181-1393, and grants were made over these years for building work. In 1246-47 Henry III built a chapel costing £26 and in 1252 he had the 'Queen's Chapel' and the 'New Chapel' glazed with plain glass and wainscotted.
Edward I built two new chambers with chapels for himself and his queen in 1279-80, at a cost of £435 12s. 6d.
Following the exchanges of the Manor over the later years when the Crown again took possession, Henry VIII granted in March 1520 the Keepership of the Castle or Manor, and the Park of Clipstone in Sherwood Forest, Nottinghamshire and the pond called Clipstone Damme, to William West, a groom of the Privy Chamber. Some minor plaster work was done during this period but the buildings fell into some decline, and a survey in 1525 reported that several of the chambers had collapsed and the 'Chapell ther is in decay and hath no cuveryng upon it'.
Particular thanks to Bryan Frettsome for research on this entry
No pictures of the chapels are known. The image on this page is a manuscript representation of a church taken from a depiction of Henry II held in the British Library, London.