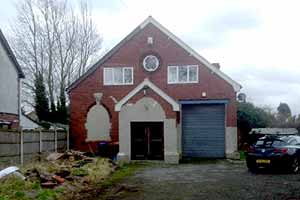 East Kirkby
St Andrew
Newark Archdeaconry
Newstead Deanery
Introduction
The church of St. Andrew was opened on Marlborough Road, East Kirkby, in 1921 as a daughter church of St. Thomas.
The original church building had been erected at Clipstone Camp during the First World War, where it served as a Garrison Church. At the breakup of Clipstone Camp in 1920, the building was handed over to the Parish of East Kirkby, the whole cost of removal and re-erection being borne by the Butterley Coal and Iron Company. It stood on a site given by the late Duke of Portland, and was placed on a substantial brick foundation, re-roofed with asbestos and concrete slates, and thoroughly painted and decorated, a new low-pressure hot water heating apparatus installed, and fitted with electric light supplied from the Colliery power station.
One third of the building was partitioned off to form an Institute for the Colliery Company's workmen (which was changed later and used as a Sunday School). A large class room and vestries built into the Church formed a Chancel.
The church was dedicated to St Andrew on 1 October 1921, in memory of those fallen in the Great War. After the opening of the present brick church on 8 October 1932, the old church was used as a Church Hall, and before the building was taken down in 1947, it was once more used by the army but this time as a billet for soldiers serving in the forces during the 1939-1945 war.
The church was closed in 1961.
Particular thanks to David Turner and Andy Nicholson for research on this entry