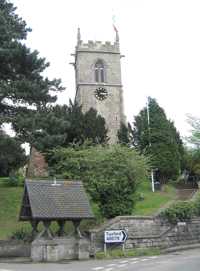 Kirton
Holy Trinity
Newark Archdeaconry
Newark and Southwell Deanery
Introduction
Holy Trinity Church stands in a prominent location, on a small hill at one end of the village of Kirton.
The church is a stone building in Early English style. It consists of a chancel, a nave with an arcade of three bays, a north aisle, a south porch and an embattled western tower with pinnacles containing a clock and 8 tubular bells. There is much 13th Century work inside: the north arcade with circular piers, simply moulded capitals, a moulded arch with nailhead, the chancel arch and the north and south doorways.
Some windows have plate tracery, some are Perpendicular (as is the tower). There are many fragments of 15th century glass. The stained east window is in memory of the Rev Charles T Lawson, rector in 1872-83.
The churchyard was enclosed by a stone wall with a lych gate in 1874. A major restoration was completed in 1865.
Particular thanks to Rowan Gillam-Hull for research on this entry.