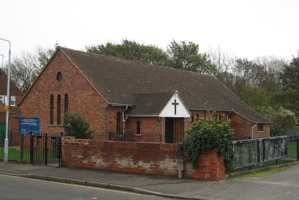 Langold
St Luke
Newark Archdeaconry
Bassetlaw and Bawtry Deanery
Introduction
The simple symmetry of this red brick church (with clay tiles) echoes a plain 13th century Gothic style. It was built in 1928, the foundation stone laid on 25 June by Miss Mellish. It consists of nave, chancel (two steps up), vestry, porch and kitchen. An organ loft or space in the chancel was planned.
There is one bell on a frame on the west gable by J Taylor. It came from the redundant church at Barnby Moor in 1987.
The windows consist of tall narrow round-topped lancets, mostly with plain glass. There are four pairs on the north side of the nave and three on the south. The three lights at the east end have coloured glass; above them is a circular window. At the west end are three lancets and two rectangular windows. The relatively large porch has a single lancet either side and white painted gable bearing a black cross.
Oak was used for the altar rails, reading desk and lectern. The narrow cylindrical font is also wooden. Seating is on dark benches and individual chairs.