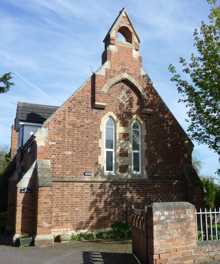 Lound
St Anne
Newark Archdeaconry
Bassetlaw and Bawtry Deanery
Introduction
A small red brick building with stone dressing and slate roof, with south porch and a bell turret. There is a small Celtic cross on the east end gable.
It opened in October 1859 as a chapel of ease to save worshippers walking to the parish church at Sutton. The original building was designed by J. G. Weightman and cost about £1200. The church could seat 120 people.
The church is now closed and has been sold and converted into a private house.
The bell was transferred to the Bellfoundry Museum in Loughborough where it is now on display.