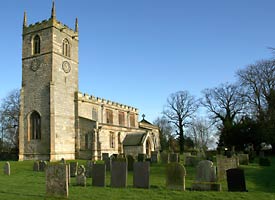 Low Marnham
St Wilfrid
Newark Archdeaconry
Newark and Southwell Deanery
Introduction
There is no mention in Domesday of a church at either High or Low Marnham, or in the outlying hamlet of Skegby. In 1359, Marnham is listed amongst churches given by the Knights Hospitaller to be served by secular vicars. In 1629 the chancel was 'out of repair' and in 1641 one of bells had broken. In all between 1636 and 1639 a total of £26 10s was spent on church repairs and improvements which were evidently much needed. There was a general, but not drastic, restoration in 1846.
The building comprises nave with north and south aisles and south porch, chancel with north chapel, and a west tower. The north and south nave arcades, the north chancel chapel arch, and the chancel arch all date from the 13th century. The south nave arcade is particularly interesting as the piers and capitals bear a strong resemblance to contemporary work at Lincoln Cathedral. The south doorway comprises a strikingly bold ogee arch and is clearly of the 14th century. The majority of the windows date from the 15th century as does the west tower.
There is a 15th century figure of St James in the glass of a north window, and in the same vicinity are traces of painted wall texts, probably of the 18th or 19th centuries. There are two fine monuments, one of 1698 to the Nicholson family, and one of 1748 to William Cartwright who was the father of Cartwright the inventor of the power loom. A royal coat-of-arms is dated 1749 and has the initials of George II.
The tower contains three bells, two are by Thomas Mears of London and are dated 1841, the third is a medieval bell by the Seliok family (1470-1540) and bears a dedication to St Wulfram which is unique in England.
The church was last used in 1980, formally declared redundant in 1986, and is now vested in the care of the Churches Conservation Trust.
With thanks to Matthew Phillips, Chris Brooke and Andy Nicholson for research on this entry
and to Geoff Buxton for photographs.