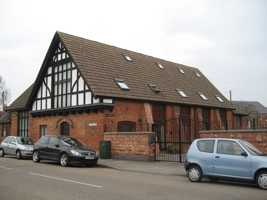 Newark
St Augustine
Newark Archdeaconry
Newark and Southwell Deanery
Introduction
This chapel-of-ease of the Church of St Mary Magdalene was on Newton Street. The corner stone of the new Mission Room and school was laid on 16 March 1886 and it opened on 22 July.
The walls are of red brick, with concrete roof tiles. Above the entrance (straight off the pavement) is a mock Tudor gable end with large four-light windows. All windows are plain.
The church consisted of a nave, chancel, apse, vestry, and organ chamber. The bell housing above the vestry was demolished in the 1970s and the bell, hung in 1919, was sent to a Mission in South Africa. It had plain walls inside, painted pale blue or white latterly. There was a semi-circular arch into the chancel, itself blue but the chancel was white. The seating at first was on chairs, but they were replaced by 19th century benches with poppy heads from the Parish Church. The choir stalls were in the chancel until the 1950s when they were taken into the nave. There was an oak communion rail and a dark oak reredos was acquired in 1915. A wooden lectern was donated in the 1970s. The pulpit was painted blue and white.
New pictures were donated for the bare walls in the early years. In latter years the only wall-fittings were a Roll of Honour 1914-18 and a Cross of Nails by Robert Kiddey.
Originally there was a harmonium, then an electric organ in 1958, replaced in 1964 with a second-hand one. William Becher Tidd Pratt was the choirmaster from 1906-56; the choir was known as Tidd Pratt's Angels.
The building was used as a Day School for 3-7 year olds until 1908 when the council school was built.
The Chapel was threatened with demolition in 1993, but after protests the Council agreed to a conversion to six dwellings, retaining the frontage and merely demolishing the vestry. It closed for Christian worship in May 1998.
Particular thanks to Amy Calladine, Dr Chris Brooke and Andy Nicholson for research on this entry.