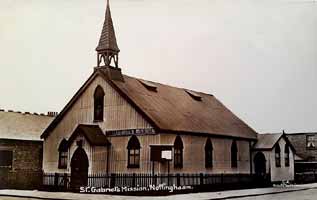 Nottingham
St Gabriel's Mission Church
Nottingham Archdeaconry
South Nottingham Deanery
Introduction
St Gabriel's Mission Church was opened in December 1884 in the southern part of the parish of St Saviour's. The mission was built in response to the growing population of the parish which had been created only in 1863. The piece of land for the church was donated by the Misses Burnside of Radcliffe on Trent and the entire cost of the site and the iron building was met by the banker, Mr Henry Abel Smith.
The iron church could accommodate 256 people was was erected by Mr. S. Naish of London.
A new red brick Sunday School was built immediately south of the church 1909-1910.
The mission was closed in 1954. The church was demolished in the 1970s but the Sunday School buildings have survived.
Particular thanks to Doug Fletcher for research on this entry