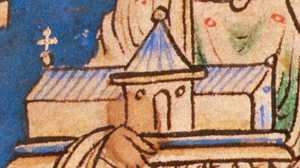 Nottingham
St Mary de la Roche
Nottingham Archdeaconry
Nottingham South Deanery
Introduction
From at least the late 12th century two monks from Lenton Abbey maintained a church or monastery here.
It was cut into the sandstone rock ¼ mile west of Nottingham Castle. Today the site is behind modern apartments on Castle Boulevard.
It had various features of a rock-hewn monastic church, aisles, kitchens, dovecotes, dormitories, pillars and an altar. Once there were wall paintings and possibly a steeple for a bell.
In effect it was a chantry where the monks said prayers for the soul of the King. In 1474 the chapel and lands attached were transferred to the King and Gervase Clifton in exchange for the chapel in Tickhill Castle, as long as Lenton Abbey always provided a monk to say mass at St Mary de la Roche.
Services ceased by about 1500 and the church fell into decay. During the Civil War Puritans destroyed a great part declaring the caves to be Papist Holes.
In the mid 19th century the caves were glazed and whitewashed and converted into refreshment rooms connected with an adjacent bowling green.
Today the caves are opened occasionally.
A seal of the Collegiate Church of St Mary under the Castle is kept in the British Museum. It shows the Virgin Mary and Child, St Peter and St Paul and the name 'Nottingham'.
No picture of this church is known. The image on this page is a manuscript representation of a church taken from a depiction of Henry II held in the British Library, London.