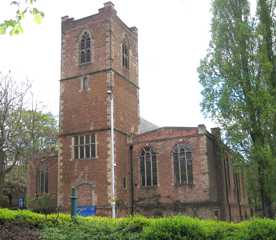 Nottingham
St Nicholas
Nottingham Archdeaconry
Nottingham South Deanery
Introduction
The original church on the site was there about 1100. It was destroyed in 1643 by the Parliamentarians after being used by the Royalists to bombard the castle. It was rebuilt in 1671-78 of brick and is the only late 17th Century church in the city.
There is a chancel, nave, aisles, vestry, north porch and an embattled western tower containing a clock and one bell (formerly two). The east end with flat-headed mullion-and-transom window is dated 1699. Similar windows were once in the nave and transepts. There is a stained glass east window dated 1913.
St. Nicholas' became fashionable in the 18th Century; the south aisle was added in 1756, the north aisle in 1783, with heavy round-arched windows. There is an arched opening to the chancel, and an 18th Century moulded ceiling. The nave has four-bay Tuscan arcades with stone columns, a round arch into the tower and a gabled timber roof from 1848. There is panelled wainscotting in the chancel where the organ (1848) was re-sited in 1863, when the galleries except one were removed and the 18th Century box pews cut down.
The chancel was largely stripped of fittings in 1979 and the nave in 1991. Hatchments and wall monuments remain, and these are a reminder of St Nicholas' history as a society church.
The small churchyard contains a few interesting gravestones, eg that of John Attenburrow, the first man in Nottingham to inoculate against smallpox. There is also a Holbrook plaque to Gilbert Wakefield, theologian and scholar.