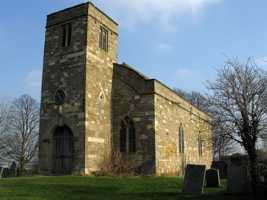 Owthorpe
St Margaret
Nottingham Archdeaconry
East Bingham Deanery
Introduction
Although Owthorpe is mentioned in Domesday book, there is no record of a church. One of the earliest records appears in Archbishop Henry of Newark's register in 1299 when the churchyard was subject to reconciliation due to some violent act of bloodshed. The present church was built around the earlier north wall which dates from a much older, 14th century, church. The present building owes much to Colonel John Hutchinson (1659), one of the signatories to the death warrant of Charles I.
Inside, the octagonal castellated font is believed to date from the 15th century. A wooden screen which marks the entrance to the chancel is reputed to come from Owthorpe Hall.
There are marble wall monuments to members of the Hutchinson family and a three-decker Jacobean pulpit with a moulded canopy. The church also has a vault in which Hutchinson's body now lies.
With thanks to Geoff Buxton for photographs