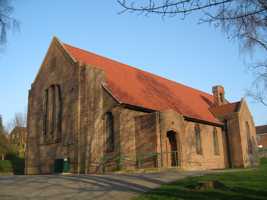 Rainworth
St Simon and St Jude
Newark Archdeaconry
Mansfield Deanery
Introduction
The foundation stone for this brick church was laid on 23rd July 1938. The building was completed in 1939, and replaced an earlier, temporary structure. The architect was C E Howitt of Nottingham. The woodwork was in oak, and all seating was in the nave.
There are choir and clergy vestries and organ chamber on the north side, and a small chapel and bell turret mid-way on the south side, with a porch in the south west corner. There is a large west window but instead of an east window there is a large cross.
An upper room was built into the west end of the roof as the new parish hall in 1973, with access by a stairway in light oak off a corridor from the south porch.
Rainworth became a parish in its own right in 1953.