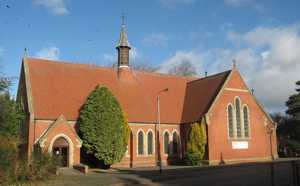 Saxondale
Hospital Chapel
Nottingham Archdeaconry
East Bingham Deanery
Introduction
The former Saxondale Hospital site contains a chapel used by hospital staff and patients from 1902 until 1988 when the hospital closed. The revivalist style building, with gothic fittings, has been retained as a place of worship since the development of housing on the site, and is now is home to The Catalyst Church.
The church is a brick-built, cruciform structure, comprising nave with north and south porches, north and south transepts, and chancel with adjuncts at the south-west and north-west angles. The west wall and side walls of the transepts have triple lancet windows of 1902 in the Early English style, and this is echoed by the rest of the windows, mainly as paired lancets. There is a small central spirelet above the centre of the nave. The interior roof is an impressive hammerbeam design, set on deep brackets. The tall chancel arch is now blocked and there is a single, modern doorway leading into the former chancel space.
Particular thanks to Amy Calladine and Andy Nicholson for research on this entry
and to Geoff Buxton for the photographs.