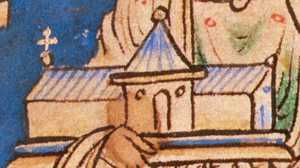 Southwell
Burgage Chapel
Newark Archdeaconry
Newark and Southwell Deanery
Introduction
In the White Book of Southwell, sometime before 1249, there it is recorded that Henry the chaplain sold four booths which stood on the northern side of the chapel of St. Thomas the Martyr.
In Shilton's History of Southwell he lists amongst the five medieval chapels in Southwell one situated at the top of the Burgage dedicated to St Thomas the Martyr and gives some indication of its location. 'A fifth Chapel, there are good reasons for supposing, stood very near the line of boundary between Burgage and Farthing-street, nearly adjoining to the Manor-house, on the south side'.
The exact location of this chapel is unknown but is currently under investigation.
No picture of this church is known. The image on this page is a manuscript representation of a church taken from a depiction of Henry II held in the British Library, London.
Information from Chris Brooke and Ellis Morgan.