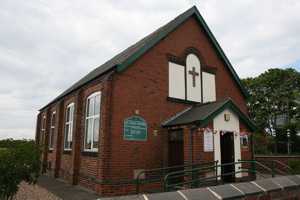 Stapleford
St Luke
Nottingham Archdeaconry
Nottingham South Deanery
Introduction
St Luke's is a former Methodist chapel which was taken over by the Church of England in 1905. It retained the original name of Moorbridge Lane Mission until 1975 when it became St Luke's. It is a daughter church of St Helen's.
It was originally staffed by the Church Army, a branch of the Church of England. In the Second World War it was also used as a soup kitchen. There was just one service a month between 1905 and 1960, but from then on weekly services were held.
It is built of red brick with a slate roof. There are two steps up to a little porch. There is a nave with a step up to the dais, a kitchen-cum-hall, vestry, a store room and two toilets, much accommodated in brick extensions at rear and side.
Seating is on chairs. There is a plain wooden pulpit, altar table and reading desk and a moveable wooden font; also a piano but no organ. Around the nave, about three feet up from the floor is pine boarding.
The windows are all large and rectangular with plain glazing. The east and west ends have blocked in Venetian windows.
Particular thanks to Rowan Gillam-Hull for research on this entry