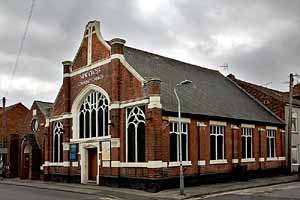 Sutton-in-Ashfield
New Cross Community Church
Newark Archdeaconry
Newstead Deanery
Introduction
The New Cross Community Church is located on Downing Street in Sutton-in-Ashfield. It is an Ecumenical Partnership Community Church formed in 2000 and includes a hall, meeting point and community shop.
St Michael's and All Angels Church on Outram Street was declared redundant as a Church of England church in 2003. Following its closure, the congregation joined with New Cross Methodist Church in an ecumenical partnership, creating the New Cross Community Church.
The church is housed in the former New Cross Primitive Methodist Chapel dating which was built in 1913-14.
Particular thanks to Amy Calladine and Andy Nicholson for research on this entry
and to Geoff Buxton for the photographs .