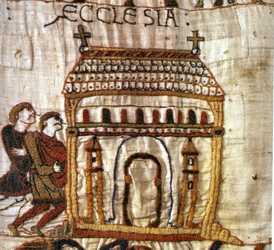 Wansley
Church
Newark Archdeaconry
Newstead Deanery
Introduction
Domesday records that in Wansley there was a priest and half a church. Sometime after the year 1176 Ralph de Wansley gave much land to the church of Felley and this may have included the church, or at least a portion, as it seems likely that the other half of the moiety that existed in 1086 was probably held by Selston given the close association of the two villages. In 1230 the prior of Felley brought an assize concerning fences and so clearly continued to hold interests in the estate. In about 1279 Ranulph de Wansley gave Felley Priory the sum of 60 shillings annually for a canon of Felley to celebrate divine service daily in 'his chapel of Wandesley beaneath his Mannor'. In 1479 the manor was passed to the priory of Beauvale by one John Bland. By the end of the 16th century the estate was reduced to one farm and it is likely that the church had disappeared before this time. The manor was still held as a moiety as late as 1725 when a dispute and recovery are recorded.
The ruins of the medieval manor house, dating from c1200 still remain, and the field to the east of Wansley Hall Farm is known as Chapel Field, marked on OS maps as early as 1879; although this may indicate the site of the chapel there is no surface evidence to verify this. Alternatively, the chapel may lie amongst the visible earthworks to the south-west, north, and west of the manor house. The earthworks and the manor are a Scheduled Ancient Monument.
No picture of this church is known. The image on this page is a representation of a church (actually Bosham Church) taken from the Bayeux Tapestry.