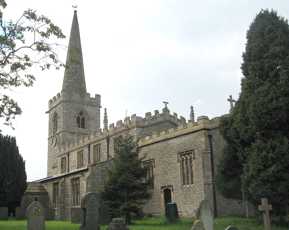 Weston
All Saints
Newark Archdeaconry
Newark and Southwell Deanery
Introduction
A church is mentioned in Weston in Domesday Book.
The church today consists of a south porch, a clerestoried nave with battlements and pinnacles, an embattled chancel and tower with a needle-shaped spire and arcades of four bays dividing the aisles. The lower part of the tower is 13th Century, the spire 14th Century. The aisles and arcades are late 13th Century, the chancel of the 14th Century. The building is of stone in the Early English and Decorated style.
The arcades have octagonal piers, double-chamfered arches and simply moulded capitals. The chancel retains sedilia and two piscinae. There is a Norman tub font of the 12th Century. Tiny fragments of medieval glass remain. The three bells are old, one by R Mellors of Nottingham dates from around 1550.
The chancel was re-built in 1840. Extensive restoration took place in 1880, when the building was re-roofed, oak seats were installed to replace the old pews, a new oak pulpit was installed and a vestry added in the north aisle. The architect was E Browning of Stamford.
The clock on the tower was restored in 1977.
Particular thanks to Matt Phillips and Andy Nicholson for research on this entry
and to Geoff Buxton for the photographs.