Bothamsall Our Lady and St Peter
Bells

One of the bells
with chiming hammer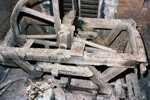 Inside the belfry
in 1987 before the
removal of the
old frame
The church has three bells
| | | | |
| --- | --- | --- | --- |
| | Inscription | Size | Weight |
| 1 | GOD SAVE THE CHURCH 1605 | 25" | c2½cwt |
| 2 | GOD SAVE KING JAMES 1685 | 26½" | c3cwt |
| 3 | DANIEL HEDDERLY MADE ME IN 1739 | 29" | c4cwt |
The treble bell was the work of Henry II Oldfield, and the tenor clearly by Daniel Hedderly. The tenor bell was cast on the instruction of an archdeacon who decreed following his visitation in June 1736 : "The third bell to be new cast".
The second carries the initials "WS" and "HW". From these it is surmised that this bell is the work of William Seller of York, and his partner may have been Humphrey Wilkinson of Bawtry who later set up business on his own in Lincoln.
A 1987 inspection by the Southwell Diocesan Guild of Bell Ringers suggested the bells were originally rung from the floor position and cited evidence of the holes for ropes in the ceiling of the ground floor of the tower. The present position of bells and frame is the second floor of the tower. Although the bells were repaired, having been found earlier in a poor state, they have not been rehung since. A letter of 1996 states:
two bells which despite their poor tone are still of historic importance, must be replaced in the belfry under securely locked access for safe storage
This is now the case, the second floor being in a very unsafe state in 2009.