Newark Old St Leonard
Archaeology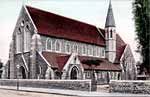 The church from the
south-west, c1910
The former church was constructed of stone, in rock-faced ashlar style. It appears to have comprised nave with south porch, north and south aisles, transepts, chancel, and a small turret tower with spirelet located at the south-east angle of the nave, between nave, aisle, and transept.
The style of construction was mainly emulating the 14th century with two large Geometrical style windows in the west wall and a roundel above and an impressive Geometrical window in the east wall of the chancel with seven lights below, two quatrefoils and a central multifoil above. The clerestory had 'Y'-bar form windows with corbel table above. The chancel side walls also had 14th century style fenestration, though in the nave aisles and turret tower were plain lancets in the 13th century manner. The spirelet had small lucarnes towards the apex.
The south porch had a statue niche with gable above the outer entrance arch. The niche contained a statue of St Leonard which was moved to the new church.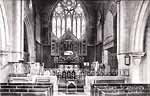 The interior of the church
looking east, c1910
Internally the aisle arcades were in 13th century style with circular columns and moulded responds. The chancel arch was in two orders with foliate capitals. The nave roof was a king-post structure with large crossing ties and principal rafters; the chancel roof appears to have been formed of arched braces, moulded, and possibly with decoration. The walls in the body of the church were all plastered but ashlar stone in the aisles.