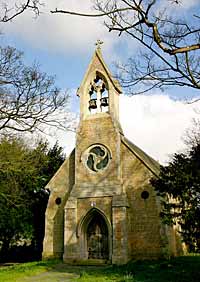 Barnstone
St Mary
Nottingham Archdeaconry
East Bingham Deanery
Introduction
This small stone church stands alone on the main road by the village. It was 'perhaps the successor of the ancient chapel of St Athelburga or St Aubrey', according to White's Directory 1853, citing Thoroton.
Inside above the entrance inset in a quatrefoil is the legend 'This Chapel was re-built by T. D. Hall Esq. mdccclvi'.
The building consists of a nave and chancel with a turret at the west end bearing two bells. There is a main door at the west end but no porch. Between nave and chancel is a pointed arch.
Between the door and turret is a circular window. The stained glass east window bears five roundels showing, for example, the Agnus Dei. Either side of the nave are three pairs of windows, two lights in each, with stained glass at the top. Each side of the chancel is a single lancet of simple stained glass.
The hexagonal pulpit, communion rail, reading desk and lectern are all of light oak, the benches in dark oak. The octagonal font is of plain stone.
There are no monuments in the church, but there are two framed Roll of Honour lists for each World War. Around the walls are fifteen coats-of-arms on small shields. One of Fairclough of Lancashire was found in the old chapel.
With thanks to Rowan Gillam-Hull and Andy Nicholson for research on this entry
and to Geoff Buxton for the photographs.