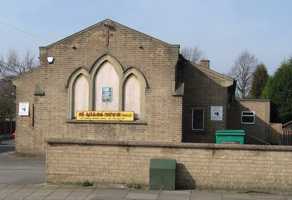 Beeston Rylands
St Mary
Nottingham Archdeaconry
Nottingham South Deanery
Introduction
This small, honey-brick church was built in 1951-2 to serve the newly developing Beeston Rylands Estate, a daughter church of Beeston St John the Baptist.
F A Broadhead was the architect of the original design in 1940, but the actual building is by Evans, Clark and Woolatt. It consists of a nave, chancel, north and south porches, vestry, kitchen, store, stage and three classrooms. The nave has a pitched roof, but the porches have flat roofs.
There are modern plain rectangular windows in the nave and a three-light pointed window at the east end, all with plain glass and metal casements. It has a teak block floor.
The last Church of England service was in held 1991. The building was subsequently sold to the Elim Pentecostal Church, who have since sold it again. It is now serving as a Hindu temple.
Particular thanks to Rowan Gillam-Hull for research on this entry