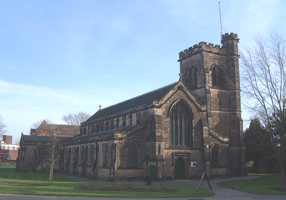 Beeston
St John the Baptist
Nottingham Archdeaconry
Nottingham South Deanery
Introduction
The parish church of St John the Baptist stands in the heart of the town of Beeston. The 1086 Domesday Book recorded Beeston in the Broxtowe Wapentake, as the land of William Peverel, but no church was mentioned. Possibly it was a small wooden church. The surrounding villages of Chilwell and Toton possessed half a church each, probably sharing the church at Attenborough. The population of Beeston at that time has been estimated at around 70-80 persons.
Lenton Priory, a Cluniac order, was responsible from around 1300 for appointing a vicar and collecting the main tithes. The Priory held the living until the fourteenth century, when Edward III took over in order to restrict the power of foreign orders during the war with France. It was later restored to the Priory, where it remained until the Dissolution of the Lenton priory in 1538 and it was again returned to the Crown.
The population of the village of Beeston had at that time reached around 300-350 of which about 40% then died of the plague and were buried in a plague pit in the churchyard.
In 1604 the patronage was given Sir William Cavendish, predecessor to the title of Duke of Devonshire. The patronage lapsed during the Commonwealth period, with the benefice passing into the hands of the Presbyterians. The patronage was returned to the Cavendish family after the Restoration, and the family remained patrons of the church until 2000, when they passed the patronage over to the Bishop of Southwell on the institution of the present vicar, Canon George Bryan Barrodale.
The church was rebuilt under Henry VIII, using stones from the fourteenth century church, and was rebuilt again, except the chancel, in 1843 by Sir George Gilbert Scott.
In 1790 there were 150 houses in the village, and in 1821 there were 1,534 residents. The present population is estimated at 21,000. The church is still very much the heart of the town, with a growing congregation and many linked organisations, such as Sunday School, Mothers' Union, Rainbows, Brownies and Guides, Trailblazers Youth Group, bell ringers and a choir.
Particular thanks to Sue Andrews and Sheila Allton for research on this entry