Beeston St John the Baptist
Bells

In 1552 there were three bells, and these were transferred to the new church in 1844, the treble recast by Taylors of Loughborough. That treble bell was inscribed 'In Principio erat Verbum' (In the beginning was the Word), the second bell 'God save this Church 1640' and the third 'Celorum Rex Christe Tibi placeat sonus iste' (O Christ, King of the Heavens, may this sound be pleasing to thee). This bell bore the manufacturing mark of a Nottingham foundry, R Mellours, which existed between 1488 and 1508.
The bells were in a poor state in 1854, as the vicar Rev Oldrini described them as being 'far from silvery in tone in later times, whatever they might have been originally', and the third bell cracked on Christmas Eve 1860 in severe frost. The bells were recast in 1870 by Taylors of Loughborough, and three more added. The new peal of six were dedicated on Shrove Tuesday, 1 March 1870 by the Suffragan Bishop. The Silk Mill and most of the local shops closed for the occasion, the streets were decorated, and Rev Oldrini recorded in his diary that there was a 'monster tea party' in the afternoon.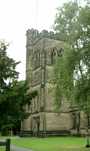 Two more treble bells were added in 1877, subscribed for by the inhabitants of Beeston in memory of John Watson, the Silk Mill owner. The bells were again sounding in poor condition by 1953, and in July 1955 the clapper in the tenor bell broke, the damage rendering the bells unsafe to ring, except for the third bell which was rung for services, until they were restored again in 1963. In July 1967 a legacy was used to rehang the bells, the sixth was recast and the inscription 'Praise the precious blood - Hilda Bond RIP' was added.
There are now ten bells in the tower, all tuned in the key of E. They were all cast by John Taylor and Co., Loughborough.
Size
Inscription
Weight
Date
1
2' 2"
S: MARY BV
TO THE MEMORY OF
HAROLD AND MAY ALLTON
HARRY AND DOROTHY DARKINS
4.2.24
1998
2
2' 3"
S: MICHAEL ALL ANGELS
TO THE MEMORY OF
GEORGE HENRY CLIFT
BELLRINGER AND ENGINEER
1908 - 1997

4.3.13
1998
3
2' 3¾"
S: THOMAS
TO THE MEMORY OF
JOHN WATSON ESQRE

4.2.22
1877
4
2' 5¼"
S: BARTHOLOMEW
TO THE MEMORY OF
JOHN WATSON ESQRE

5.2.6
1877
5
2' 7½"
S: JOHN AP EVAN
5.2.6
1870
6
2' 9½"
S: LUKE EV
6.3.20
1870
7
3' 1"
S: MARK AP EV.M.
8.3.1
1870
8
3' 2"
S: MATTHEW AP EV.M.
PRAISE THE PRECIOUS BLOOD
HILDA BOND RIP

10.1.17
1967
9
3' 5½"
S: PETER AP EV
12.2.24
1870
10
3' 11½"
S: JOHN BAPTIST
17.1.14
1870