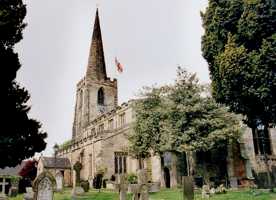 Attenborough
St Mary the Virgin
Nottingham Archdeaconry
Nottingham South Deanery
Introduction
The present day church consists of a medieval chancel with North vestry (now housing the organ) and South wall chancel door, clerestoried nave, North and South aisles, South porch, West tower and spire, and West end vestries and "Galilee" added in 20th century. It is set within a conventional churchyard which is walled and gated on Church Lane (North side).
A chapel is said to have existed on the banks of the River Trent at Addenburgh in 964 AD and was overbuilt with the stone chancel of the present day church. The chancel was thought to exist as early as 1042 and is recorded in the Domesday Book of 1086 where it is referred to as being shared by Chilwell and Toton. These two communities had formed at a distance on higher ground, probably as a result of the church being built on a gravel ridge adjacent to the river where there was little room for community expansion around it without the risk of frequent flooding of the homes. The boundary division of these two civil parishes divided the churchyard for many years.
Until the 20th century, Attenborough was the ecclesiastical parish responsible for the souls of the Chilwell and Toton communities. Bramcote was also adjoined with Attenborough, the parish being known as Attenborough cum Bramcote. In 1903 a separate mission church, Christ Church, had been built at Chilwell, and in 1923, a daughter church, St Peter's, was built at Toton.
In 1957, a further mission church was built at the extremity of the rapidly developing area of Chilwell and was known as St Barnabas' at Inham Nook. Eventually, in 1967 Bramcote became a separate parish and Rev James Hamilton-Brown became its first vicar. Then in 1975 Chilwell was recognised as a parish in its own right and became Chilwell with Inham Nook. The first vicar of this newly formed parish was the Rev John Williams. At the same time in 1975 Attenborough became Attenborough with Toton and merited its own vicar; the first vicar being Rev Frank Beech who was previously the curate at Attenborough. A small amount of the old parish, which was situated South of the River Trent, was at this time transferred to Clifton. This arrangement continued until once more, due to population growth, it was necessary to divide Attenborough and Toton to form separate parishes. This division took effect from 1 May 2001 and Rev Peter Gibbs was to be re-licensed as vicar of Toton.
This development time-line is necessary to understand the complexities of the historical ecclesiastical parish of Attenborough, once known as the 'ABC Empire', otherwise, Attenborough, Bramcote and Chilwell with St Barnabas', Inham Nook, and St Peter's, Toton plus the Chilwell Garrison church on MOD land.
Particular thanks to Janet Jones for research on this entry
and to Howard Fisher and Colin Jones for photographs