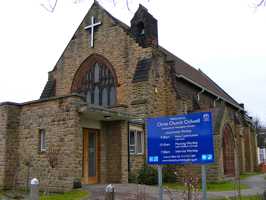 Chilwell
Christ Church
Nottingham Archdeaconry
Nottingham South Deanery
Introduction
The ecclesiastical parish of Attenborough included two civil townships: Chilwell and Toton. (The parish also included the district of Bramcote, and was known in full as "Attenborough cum Bramcote".) Although tradition held that there was a church in Chilwell prior to the Reformation, this has never been verified and no site is known.
St Mary, Attenborough, technically in the civil parish of Toton, remained the parish church for Chilwell, Toton and Bramcote until the 20th century.
The present church, which has neither aisles nor a tower, was built as a mission chapel in 1901-03, and consecrated in 1915. It has Perpendicular windows, and has been extended several times. There is no separate burial ground.
Chilwell became a separate parish in 1974. St Barnabas', Inham Nook, was built as a daughter church in 1957, primarily to provide an Anglican presence on a newly built council estate at the west end of the parish.
Particular thanks to John Beckett, Graeme Renton, Heather Sirrel and Colin Slater for research on this entry