Chilwell Christ Church
Features and Fittings

The Communion Table

Dedication plaque
on the Table
Communion Table
A brass plaque reads:
TO THE GLORY OF GOD
AND IN MEMORY OF
F/O ROBERT WILKINSON RAF
LOST OVER GERMANY 16TH/17TH MARCH 1945
AND IN THANKFULNESS TO GOD
FOR THE SAFE RETURN OF HIS BROTHER
PETER MCCONNELL WILKINSON
OF THE MERCHANT NAVY, BOTH ONE TIME
CHORISTERS OF THIS CHURCH.
REMEMBERING ALSO
ALL FROM THIS PARISH WHO GAVE THEIR
LIVES IN THE CONFLICT 1939 – 1945
PER ARDUA AD ASTRA
The table was originally donated by Robert and Peter's parents Harry and Ina Wilkinson of Cator Lane, Chilwell c1954-1959. Harry and Ina were very generous to the church in their time.
The maker of the table is unknown. It was extended during the Rev John William's time as Vicar – sometime between 1976 and 1980.

The font, pulpit
and lectern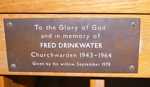 Plaque attached to
the pulpit
Font
Designed by Vernon Royle, the font precedes the chancel extension. It was requested of Mr Royle that the font be designed to be moveable; It was situated for many years at the back of the church before being moved to its present position.
Pulpit & Lectern
A brass plaque reads:
TO THE GLORY OF GOD
AND IN MEMORY OF
FRED DRINKWATER
CHURCHWARDEN 1943-1964
GIVEN BY HIS WIDOW SEPTEMBER 1878
Fred's widow's name was Gertrude Drinkwater. They had been long-standing members of the congregation of Christ Church and owned a drapers' shop on Chilwell Road. Fred was treasurer as well as Churchwarden of Christ Church for many years and was known for his beautiful copperplate handwriting. They moved to Wales until Fred's death, after which Gertrude returned.
The pulpit and lectern were also designed by architect Vernon Royle.
| | |
| --- | --- |
| Bishop's chair | The attached plaque |
Bishop's Chairs
A brass plaque attached to these reads:
TO THE GLORY OF GOD
AND IN MEMORY OF
CAPT. PETER McCONNELL WILKINSON M.N.
DIED 30TH DECEMBER 1970
AGED 46 YEARS
GIVEN BY HIS PARENTS
IN GRATEFUL THANKS TO GOD
FOR 55 YEARS OF HAPPY MARRIAGE
1921 - 1976
The pair of chairs and accompanying desks were given in memory of Capt. Peter McConnell Wilkinson, the brother of F/O Robert Wilkinson (cf Communion Table dedication). They date later than the Communion Table as Captain Peter McConnell Wilkinson survived the war.
One of the
clergy chairs
Choir stalls
Plaque on one of
the chairs
Clergy Chairs & Choir Stalls
A plaque on one of the chairs reads:
11-9-1888 15-1-1966
In memory of KATE EVELYN SALT
Daughter of William and Millicent Salt
of Ellastone in the County of Staffordshire
who for over 40 years was a chorister
and loyal member of this church.
In gratitude to God for her life
these Clergy and Choir stalls
are donated by her neice
Gertrude Millicent Price
1969
IN TE DOMINE SPERAVI
A more recent addition to the fittings than the Bishop's chairs, the two clergy chairs and choir stalls were also designed by Vernon Royle and given in memory of Kate Salt by Gertrude (known as Millicent) Price. Millicent was the owner of a popular bakery on Chilwell Road and a well loved member of the congregation.
Desks
A pair of desks to accompany the Clergy chairs were given in memory of Peter Wilkinson.
| | |
| --- | --- |
| Credence Shelf | The attached plaque |
Credence Shelf
This carries the inscription:
IN MEMORY OF
KENNETH T. HOPKIN
1911 - 1959
It was given in memory of Kenneth Hopkin (1911-1959) who was husband of the PCC secretary.
Congregational Seating
In 2009, prompted by issues of access with fixed pews and a narrow aisle new flexible seating was provided throughout.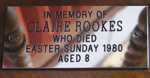 Plaque on the
Flower Stand
Flower stand
The flower stand was given in memory of Claire Rookes (daughter of Penny Rookes) who died aged only 8 on Easter Day 1980.