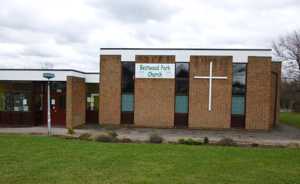 Bestwood Park
Church (LEP)
Nottingham Archdeaconry
Nottingham North Deanery
Introduction
A plaque near the entrance records that the foundation stone was laid by Alderman F A Small 13th November 1965. The church opened in July 1966.
The church is a modern, single storey design in brick with a flat roof, as is the adjacent bungalow. It stands at a road junction with substantial land (grass) and a low brick boundary wall. The main hall (nave) is higher than the rest of the building. It has a wooden floor and a stage at one side. There is an entrance lobby, vestry and 3 classrooms, a kitchen and minister's flat. Seating is on individual chairs. There is clear glazing and a large white cross on an exterior wall.
The pipe organ was removed in c2007.
The building is Methodist owned, but it has operated as an Anglican/Methodist ecumenical church since 1982.
Particular thanks to Rowan Gillam-Hull for research on this entry