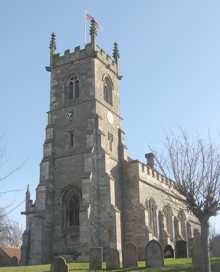 Bothamsall
Our Lady and St Peter
Newark Archdeaconry
Bassetlaw and Bawtry Deanery
Introduction
The church stands on high ground and looks down towards the main street of the village.
At least one other church has been built on this site but that may not have been the earliest place of worship in the village.
Built in 1845 at the expense of the 4th Duke of Newcastle-under-Lyne, the present church consists of chancel, north aisle, nave, west tower and vestry - the whole embattled and the tower pinnacled. It retains the bells and font of the demolished church. There was probably some reuse of the stone also.
Bothamsall is an attractive place which formed, from the eighteenth century until 1945, an estate village belonging to the Clumber properties of the Pelham-Clintons, Dukes of Newcastle-under-Lyne. The absence of non-conformist places of worship highlighted in the 1851 Religious Census reflects the strong Anglican beliefs of that family.
Most of all, research into the church reveals a fascinating picture of the traditional relationship between aristocracy, clergy and estate workers in Victorian England.
Particular thanks to Dee Ashton, Hilary Briggs, Wendy Chetwin, Mary Howard & Anita Maunsell for research on this entry