Coddington
All Saints
Monuments and Memorials
Colclough Monuments
Two monuments are set in the tower walls – perhaps in their original positions (though possibly moved during the 1864-5 rebuilding).
Within a headstone shaped stone, a marble-framed inscription stone, with classical pediment and urn and the ends of pillar supports, the inscription reads: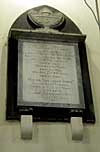 In a Vault,
eight feet South of this Pillar,
is deposited
SAMPSON CHRIS. COLCLOUGH ESQR
late of Beaconfield, in this Parish,
who died 7th of Sepr 1805,
aged 46 years;
also in the same Vault,
ANN, his wife,
who died 9th of Feby 1804,
aged 45 years.
They left Issue, CÆSAR CHRISR
Captn In the 82d Regiment,
JOHN in the Royal Navy,
MARY ANN,
GLADWIN, SAMPSON CHRISR
and CATHERINE.
Within a plain frame, set on plain corbels and inscription stone which reads:

To the Memory of MARY-ANN
the Wife of JAMES BOUCHER Esq.
of Epsom, in Surry
and eldest Daughter of the late
S.C.Colclough Esq.
of Beaconfield in this Parish,
She died at Logie House, Morayshire, N.B.
on the 4th Sepr 1819, aged 29 years.
And is interred in the private Burial Ground
of Sr THOs LAUDER DICK Bart of Relugas,
in the Parish of Edenkillie
in that County.
Possessed of every virtue and accomplishment,
that could adorn the Female character,
beautiful in her person, and elegant
in her manners,
She died most deeply regretted
by all who had the happiness of knowing her,
Vale, Cara, Maria, Vale
Iterum, Iterumque Vale.
The Colcloughs were the earliest occupants now known of the house Beaconfield, which became Coddington Hall. The earliest reference in the parish records to the family is the baptism of John in 1788, and four subsequent children of Sampson Christopher and Ann Colclough. In 1787, 1794, 1797 and 1802 S C Colclough countersigned the Vestry accounts. In 1810, 18 year-old Gladwin Colclough was buried at Coddington presumably also in the family vault, as was Caesar Christopher Colclough, late Major in 82nd Regiment of Foot, the eldest son who died at Hull aged 25yrs.
Monument to John Somerled Thorpe
J S Thorpe was killed in the First World War. His monument is listed with War Memorials.
Brass Memorial / Dedication Plaques
These include those for the tower window, the organ, and the reredos.
In addition:
Rev Frederick Vernon Bussell
13 years vicar of this parish
This is presumably a close relation (? brother 1819-1861) of Rev John Garrett Bussell, incumbent of Newark St Mary and Canon of Lincoln 1835-1874).