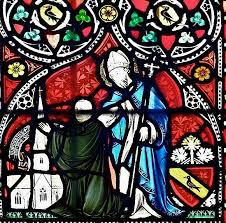 Cropwell Butler
St Peter
Nottingham Archdeaconry
East Bingham Deanery
Introduction
A chapel-of-ease to Tythby Holy Trinity was built in 1845 (the date stone is still visible) on the main street in the middle of the village. It was very small and built of common red brick, costing £400 and containing a small organ and small font.

It was a private building, comprising a nave and north aisle. The arcade was of three pointed stone arches supported by oval pillars.

It had two large pointed windows either side of the nave, with plain glass, and one at the west end of the aisle.

Services ceased in 1879 and the door way was bricked up. Later in the century it was bought for £200 by the parishioners and enlarged with a vestry and porch added.

A service of dedication for St Peter's Mission Church was held in 1897. It was owned by Tythby Parish and PCC meetings took place in it until circa 1924.

Services ceased many years ago and the building has been converted to a private house.

No picture of this church is known (from before it became a private dwelling). The image on this page is a section of a stained-glass window (actually in Ramsgate Church) depicting the Victorian architect Augustus Pugin.

Particular thanks to Matthew Phillips for research on this entry.