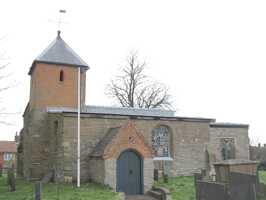 Tythby
Holy Trinity
Nottingham Archdeaconry
East Bingham Deanery
Introduction
The church of Holy Trinity in Tythby dates from the 13th Century and is a stone building in the early English style with a later brick built bell tower. It was previously dedicated to St Peter.
The church is noted for its Georgian furniture which includes a fine, double-decker pulpit and reading desk. There are also high deal pews in the south aisle, a squire's pew and a high chancel rail. The octagonal font, although produced earlier, was repaired at the restoration and dated 1662. The bells are also inscribed and dated 1662. The nail studded priest's door in the chancel is 14th Century and also in the chancel there is a poppy-head bench end and a row of hat pegs. Among the memorials in the church is a beautiful 15th Century tablet dedicated to Thomas Chaworth, who died on Trinity Sunday 1435, and his family. There are two east-facing, stained glass windows - one in the chancel and the other in the south aisle. On the west side of the church there is a 19th Century gallery under which stands a 19th Century decorated organ. The church is surrounded by a small churchyard and there is a later cemetery at Rookery corner in Cropwell Butler.
Altogether Holy Trinity, Tythby is a charming, small, country church.
Particular thanks to Anne Earl for research on this entry
and to Anne Woodcock for further information