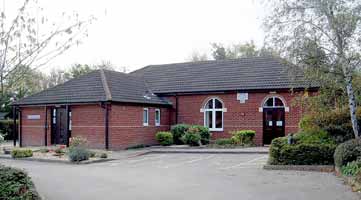 Daybrook
St Timothy Church Centre
Nottingham Archdeaconry
Nottingham North Deanery
Introduction
This new building was opened in June 1993 as a Community Centre and a small 'daughter' church of St Paul's Daybrook. At first the parish dedication was to St. Paul and St. Timothy. It took over the function of the Cecil Hall, a Mission Church on Byron Street, Daybrook, which was demolished in 1992. It is at the end of a cul-de-sac on Swinburne Way, Byron Street and forms part of a small housing estate.
The concrete tiled roof sits on a traditional brick built complex of good quality facing brick. The flooring is mostly sheet strips and quarry tiles. The building consists of a lobby entrance, a spacious main hall, playgroup area, kitchen, store, toilets and an office.
There is a large white cross on an interior wall.
Particular thanks to Dr Chris Brooke and Amy Calladine for research on this entry
and to Geoff Buxton for the photographs.