Eaton All Saints
Monuments and Memorials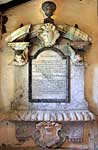 There is a monument to John Stringer (died 1712) in the vestry.
Here lyes Interred,

IOHN STRINGER of Sutton upon Lound in this County
Esqr Lord of this Mannour of Eaton,
And ELIZABETH his Wife Daughter of CHARLES PELHAM
of Brocklesby in ye County of Lincoln Esqr.
And FRANCIS STRINGER their Only Son, who dyed
ye 4th of Septembr 1712, Aged 9 Years.
The said IOHN STRINGER dyed ye 4th of July 1706,
Aged 29 Years.
ELIZABETH his Wife dyed ye first of March 17265
Aged 45 Years.

They left an Onely Daughter & Heiress, ANN,
marryed to ye Right Honble IOHN Earl FITZWILLIAM
of Milton in Northampton-shire, but is since
deceased, Viz : the 13th of September 1726,
having left his Lordship, 1 Son WM Lord MILTON,
& 3 Daughters; The said Countess FITZWILLIAM
is buryed at Marham near Milton in Northamp-
ton-shire, being the Buryal Place of his Lord-
ships Family.