Elston
All Saints
War Memorial
There are two war memorials in the porch of the church: one for those villagers who died during the First World War and the other for those who fell during the Second World War.
The First World War memorial is a wall mounted white stone tablet with black lettering with an alabaster surround with a frame containing 20 floral rosettes. It is 1200mm high and 900mm wide.
It reads as follows:

GIVING GLORY TO GOD
FOR THE MEMORY OF
THOSE ELSTON MEN WHO
LAID DOWN THEIR LIVES
FOR THEIR COUNTRY
IN THE GREAT WAR
1914 – 1919
THIS TABLET IS ERECTED
BY THE ELSTON PEOPLE
SERJEANT

ARTHUR SPOWAGE D.C.M.

GRENADIER GUARDS

CORPORAL

FREDERICK HICKMAN M.M.

CANADIAN CAVALRY

PRIVATE

LESLIE H. MARTIN

SOUTH WALES BORDERERS

JOSEPH W. WADE

SHERWOOD FORESTERS

EDWARD GODSON

SOUTH STAFFORDS

HERBERT TOULSON

SHERWOOD FORESTERS

ARTHUR PACEY

KINGS ROYAL RIFLES
FAITHFUL UNTO DEATH
The Second World War tablet reads as follows: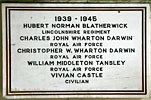 1939-1945
HUBERT NORMAN BLATHERWICK
LINCOLNSHIRE REGIMENT
CHARLES JOHN DARWIN
ROYAL AIR FORCE
CHRISTOPHER W. WHARTON DARWIN
ROYAL AIR FORCE
WILLIAM MIDDLETON TANSLEY
ROYAL AIR FORCE
VIVIAN CASTLE
CIVILIAN
The lives of those remembered on the two War Memorials are contained in the publication "All Saints Church Elston Project 2007 -2009" and on the Elston Heritage Project website.