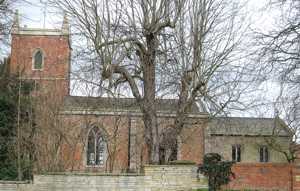 Flawborough
St Peter
Newark Archdeaconry
Newark and Southwell Deanery
Introduction
Flawborough is a small village (population approx 55) lying at the north of the Vale of Belvoir. The present church is a simple red brick and stone building surrounded by trees.
A late Norman doorway with two orders of colonnettes and two orders of zigzag arches indicates that there was a place of worship on the site of St Peter's Church from early times. However, the present church was rebuilt in 1841. A painting in the church shows a small picture of Flawborough old church looking rather derelict. Below this same painting it is recorded that the cost of rebuilding was £769, £361 of this being donated by the Rev Dr D Staunton, Rector. Another major benefactor was the Duke of Newcastle who contributed £105.
The interior is plain, but light and pleasant. The font is also Norman and there are two chiming bells, dated approx 1350. The bells were refurbished in 1976. The original headstocks and clappers are on view in the church.
Also of interest are several early 18th century slate headstones, three pairs of which are listed, and a further one has raised lettering.
The church was closed for worship in 2009 and has now been sold into private hands.
Particular thanks to Jessica Key for research on this entry
and to Geoff Buxton for the photographs.