Gamston and Bridgford
St Luke
Churchyard
As less than half the site is open space and fragmented there is no graveyard.
The west wall of the church abuts the St Luke's Close car-park. The narrow strip between the building and Leahurst Road has block-paving with cycle racks and a shrub border whilst the wider and longer eastern strip is tarmacadamed and has bays for 8 cars. A line of shrubs marked this end of the site in 2013.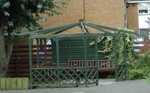 The gazebo in the
grounds of the church
The largest area, the rectangle delimited by the church and the southern and western boundary fences, is given over to recreation/relaxation. The central space is a play area with child-friendly surfacing. It is fringed by a wood and metal roofed walkway running round the walls of the building. A combination of perennial plants, climbers and shrubs give shade to the bench seating. An open gazebo/summer-house and adjoining children's play/adventure area front the western fence.